Ray Rolston, also known as "Papa Ray" amongst his followers, was born in British Guyana, a small English speaking country nestled on South America's North Atlantic coast. Growing up amid dense rainforest, with an infinite tropical climate, trade winds and bright sunsets, inspired him to be a naturalist. At an early age, he started painting the landscapes surrounding his hometown. The many waterfalls and rivers of the region became the subject of his works of art as a young adult.

After migrating to the US and spending 3 decades in New York City & South Florida, he relocated to The Florida Keys. Surrounded by the turquoise waters of the Gulf on the west and the Atlantic on the east, Ray called Key West his home for more than twenty years. This paradise, located on the southern continental tip of the US, was perfect for his eclectic, creative mind as well as the casual Island lifestyle that he embodied. The lush tropical landscape, colorful conch houses, landmark buildings and magnificent sunsets became the subjects and inspiration for Key West Colors. His signature line of artwork, which consists of vibrant hues coupled with breathtaking views, earned him the title of one of the premier artist of Key West. His vivacious personality and spirited love of life captivated those who met him at the world famous Sunset Celebration on Mallory Pier and garnered him a worldwide following.

Ray enjoyed travelling all around the world, painting and taking photographs. He enjoyed many trips to the Amazon region and the coral reefs & seascapes of the Caribbean, where he found unbridled inspiration for his painting. His vast body of artwork also included: commissioned paintings, abstracts, portraits, and tributes to some of his favorite musicians.

His artwork can still be found in galleries, restaurants, & banks in Key West, across the Florida Keys and beyond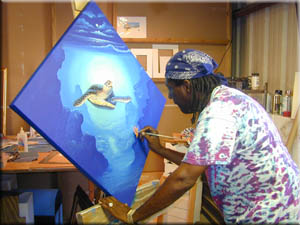 .